Generally I travel on short notice and with little planning. For me, aimlessly wandering secreted urban streets and directionless forest paths is the true appeal of travel. Metered hours in an unknown landscape leaves little time for the majesty of the unexpected. It was in this spirit that I set out for Portugal, with dreams of old-world charms ripe for exploration. Visiting the hub of new world discovery as one of my first European forays added to the appeal.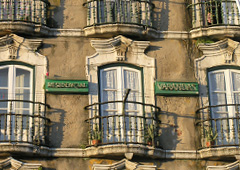 Elegant residences line the streets around the Baixa Pombalina (or Pombaline Lower Town), rebuilt following the devastating 1755 earthquake
My itinerary was, perhaps, rather ambitious: three cities, one of them the metropolis of Lisbon, in a scant five days. Alas, the timing was beyond my control, so smooth traveling was subject to capricious winds of fate. Fortunately, Portugal boasts something all too lacking from my past travels: a first-world transportation system. While not France's TGV or Japan's Shinkansen lines, Portugal's aptly named Comboios de Portugal (Portuguese Trains) is an easy, if leisurely, way to traverse the country without risking life and limb on the nation's precarious roadways.