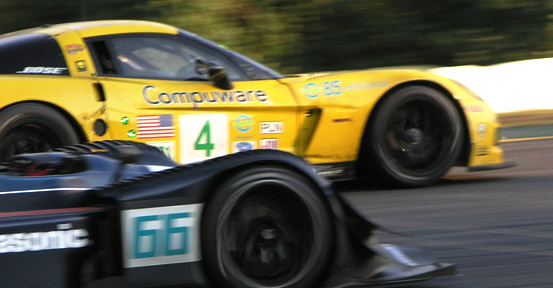 This past weekend, I attended the 11th annual Petit Le Mans at Road Atlanta. This was the penultimate race of the American Le Mans (ALMS) season and the season's second endurance race, clocking in at 10 hours (or 1,000 miles). While I am a Formula One fan at heart, ALMS is great for the looser atmosphere and greater public access to pit lanes, garages drivers and crew, and, of course, the cars. This was the first auto race I've been to, and I was not disappointed.
With perfect weather, a strong field of competitors (including the evenly matched challengers of Audi and Peugeot for LMP1 victory), and a qualifying session which smashed the record books, the race to the finish of the 11th Petit Le Mans was sure to be exciting. And exciting it was. Not only was it the longest Petit Le Mans in history, it also saw one of the closest margins of victory.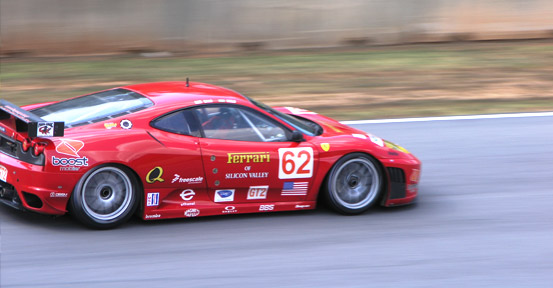 The race
After ignominiously crashing his Audi R10 on the formation lap, Allan McNish was forced to start from the pit after the crew heroically repaired the damage. This put him two laps down, but with a fantastic drive, the three Audi drivers launched their car back into the lead – but only just. With night falling and the race coming to a close, the Audi was barely ten seconds ahead of the Peugeot, with the second Audi R10 only a few seconds behind in third – this after nearly ten hours of racing. In a classic race to the finish, McNish piloted his repaired Audi across the line, a mere 4.5 seconds ahead, for victory. LMP2 saw a clean sweep by the Penske Porsche RS Spyders while the GT1 Corvettes scored a one and two victory (against, alas, no competition). GT2 also saw a close battle, with Risi Competizione driving their Ferrari F430 GT to a class victory.
All in all, it was quite a race. Eleven full course cautions (a Petit Le Mans record) certainly broke up the day, though seeing so many parade laps behind the safety car did get somewhat aggravating. If you are a photographer, the slow progress under a full-course-caution probably makes getting clear shots a lot easier (one wonders how many of the best race photos were taken under the yellow flag). But, as a spectator, seeing such powerfully fast machines cowed behind a four door sedan safety car leaves something to be desired.
Several of the more spectacular accidents have been uploaded to YouTube (fortunately I didn't see any of these since I'd much rather see a good race than a car parked in a wall). Thankfully all the drivers were fine.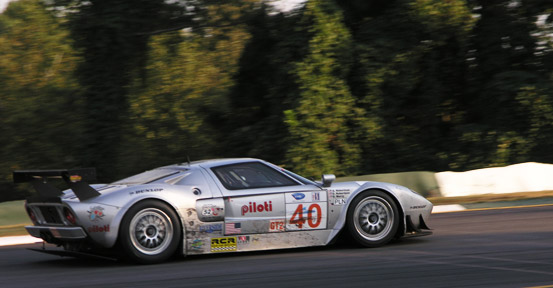 Now that was loud
Despite all the cautions, the race proved plenty exciting. Having several car classes on the road at once certainly made for an interesting contrast, both between the cars and the differing strategies employed by each. Until you are a few feet away from an GT racer with a wide-open throttle, it is difficult to appreciate how fast – and how incredibly (biblically) loud – they are. Each car has a particular sound, with the Corvette V8s producing a deep throaty rumble and the Ford GTs voicing a more uneven roar at an almost unchallenged volume. The Ferrari and Porsche GTs were more even, higher pitched and somewhat (if it can be said about the astonishing volume produced by all these machines) quieter.
What was truly shocking though, is how quiet the diesel LMP1 cars were, particularly in comparison to their more traditional gas-powered brethren. Both the Audi and Peugeot had a clean and fairly high-pitched whine, more like you'd expect from a jet turbine than a massive 5.5 liter V12 racing engine. Despite their understated sound, the LMP1s were still blindingly fast.
The accessible nature of the event really added to the overall enjoyment. Not only could you stand a few feet from the pit crews for every team, you could walk around the garages while the race was going. This meant that any time there was critical mechanical trouble and the car had to be brought in for repairs, you could watch from a feet away as the mechanics rushed to restore their car.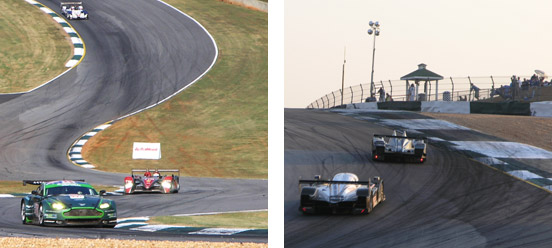 Suggestions from a (former) newbie
For those of you thinking about attending a future car race (and in particular an ALMS race), here are some suggestions:
Bring ear protection, I cannot stress this enough. The cars (as I've noted) are terrifically loud and you can get quite close to the action, especially at an ALMS race. Fortunately, even very cheap earplugs will suffice. I bought mine at the track for a whopping 1 USD and they worked quite well.
Get a radio or, better, something with good wireless internet. It is very difficult to tell where all the cars are in the race and, if you have earplugs in, you won't hear the announcers. Ideally, radio equipped noise-reduction headphones would be best. Extra batteries are key though, particularly for an endurance race. Things are much more exciting when you know where the cars driving by actually fit into the larger race.
Bring something to sit on, but unless you are parking very close, make sure it is light. At an ALMS race you can walk to many different parts of the track and you'll probably want to spend a decent amount of time at each stop. A chair is more comfortable, but a blanket can be enough.
Make sure you have some water, especially during an endurance race. Several of the food tents ran out, so I had to go with whatever soda they had left. Unless you want basic hotdogs and hamburgers, you may want to bring some food as well.
All in all, it was a fantastic race day, hopefully the first of many.